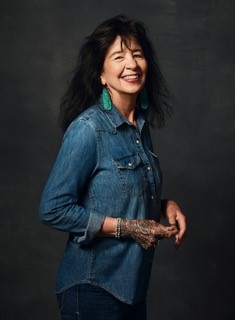 Joy Harjo has been named the winner of Yale's 2023 Bollingen Prize for American Poetry. The Bollingen Prize, established by Paul Mellon in 1949, is awarded biennially by Yale University Library through Beinecke Rare Book and Manuscript Library to an American poet for the best book published during the previous two years or for lifetime achievement in poetry. The prize includes a cash award of $175,000.
A panel of three judges – Mei-mei Berssenbrugge, Natalie Diaz, and Ilya Kaminsky – has awarded the 2023 Bollingen Prize for American Poetry to Joy Harjo for her book Weaving Sundown in a Scarlet Light: Fifty Poems for Fifty Years and for her lifetime achievement in and contributions to American poetry.
Harjo is the 53rd poet to be honored with the award and joins a list of past winners that includes W. H. Auden, Marianne Moore, Wallace Stevens, Louise Bogan, Léonie Adams, Robert Frost, Robert Penn Warren, Susan Howe, Charles Wright, Louise Glück, Nathaniel Mackey, Jean Valentine, Charles Bernstein, and Berssenbrugge.
"Through decades of restless creativity and expansive memory, Joy Harjo has produced a spellbinding body of work that unsettles new forms of language, and continually challenges the possibilities of where poetry has been and where it can still arrive," the prize-judging committee wrote. "Weaving Sundown in a Scarlet Light recontextualizes individual poems from throughout Harjo's life in poetry, highlighting the relevance of her early poems in the present moment and demonstrating the open scope and scale of her work over historical and spiritual time."
"What an honor to be included in the ancestral field of American poets who have received the Bollingen Prize," Harjo said. "Poetry has been my most challenging teacher and the most rewarding."
Author of more than 10 books of poetry, as well as plays, children's books, and memoirs, Harjo is an internationally renowned performer and writer of the Muscogee (Creek) Nation. She served three terms as the 23rd poet laureate of the United States from 2019 to 2022. Harjo's many honors include the National Book Critics Circle Ivan Sandrof Lifetime Achievement Award, the Ruth Lilly Prize for Lifetime Achievement from the Poetry Foundation, the Academy of American Poets Wallace Stevens Award, and a Guggenheim Fellowship.
As a musician and performer, Harjo has produced seven award-winning music albums. She is the editor of Living Nations, Living Words: An Anthology of First Peoples Poetry, the companion anthology to her signature poet laureate project. She is a chancellor of the Academy of American Poets, Board Chair of the Native Arts and Cultures Foundation, and the first artist-in-residence for the Bob Dylan Center in Tulsa, Oklahoma, where she lives.
Harjo delivered the 2021 Windham-Campbell Lecture at Yale, part of the virtual Windham-Campbell Prize Festival that year. That lecture was the basis for Catching the Light, published in 2022 by Yale University Press in the Why I Write series.
The judges noted: "For Harjo, poetry is witness and song; it is kin to incantation, speaking to the past and the present at once, finding a language that vibrates with possibility of crossing the threshold of time. This poet knows that language is not a record of an event, it is an event in itself. Her work employs music to convey ideas and arguments with the shimmering power of a sacred text."
The Bollingen Prize is administrated by the Yale Collection of American Literature (YCAL) at Beinecke Library.
"Poetry is an essential and enduring art form," said Bollingen Prize Director Nancy Kuhl, curator of poetry for YCAL. "The Bollingen Prize celebrates and supports living poets whose work is at once timely and timeless – poets, like Joy Harjo, whose work illuminates the human condition and helps us understand who we are and who we can become. We are thrilled that the 2023 Bollingen Prize for American Poetry has been awarded to Harjo for her lifetime achievement in and contributions to American poetry and for Weaving Sundown in a Scarlet Light, her magnificent book of fifty poems selected from across fifty years."
Throughout its history, the Bollingen Prize for Poetry has recognized and honored the best in American poetry. Early Bollingen Prize winners — Stevens, Moore, E. E. Cummings, Auden — are today widely considered to be writers whose work defined a new American literature of the 20th century. More recent winners — John Ashbery, Robert Creeley, Glück, Charles Wright, Gary Snyder, Susan Howe, Nathaniel Mackey, Jean Valentine, Charles Bernstein, and Mei-mei Berssenbrugge — have been praised for bringing stylistic diversity to American writing.
Bollingen funds also provide for various poetry-related activities at Beinecke Library, including readings and public seminars, curatorial projects, and graduate and undergraduate student publications and research.
Biographies of the 2023 Bollingen Prize judges
Mei-mei Berssenbrugge: Winner of the 2021 Bollingen Prize, Berssenbrugge is the author of 14 books of poetry, including Hello, the Roses; Empathy; I Love Artists; and A Treatise on Stars. Her collaborations include works in theater, dance, music, and the visual arts.  She has been a finalist for the Pulitzer Prize and National Book Award and has received a National Endowment for the Arts Fellowship, and the American Book, Asian American Writer's Workshop, PEN Open Book, and PEN West awards. She lives in northern New Mexico and in New York City.
Natalie Diaz: Author of Postcolonial Love Poem – winner of the Pulitzer Prize for Poetry and finalist for the National Book Award and the Forward Prize for Poetry­—and When My Brother Was an Aztec, winner of an American Book Award, Diaz has received fellowships from the MacArthur Foundation, the Lannan Foundation, the Native Arts Council Foundation, and Princeton University. She was awarded Princeton's Holmes National Poetry Prize and is a member of the board of trustees for the United States Artists, where she is an alumnus of the Ford Fellowship. A language activist, Diaz is director of the Center for Imagination in the Borderlands and is the Maxine and Jonathan Marshall Chair in Modern and Contemporary Poetry at Arizona State University, where she teaches in the MFA program. In 2021, Diaz was elected a chancellor of the Academy of American Poets.
Ilya Kaminsky: Author of Deaf Republic – a New York Times Notable Book in 2019 – and Dancing in Odessa, Kaminsky is a co-editor and co-translator of many other books, including The Ecco Anthology of International Poetry and Dark Elderberry Branch: Poems of Marina Tsvetaeva. Kaminsky has been awarded the Los Angeles Times Book Prize and Poetry magazine's Levinson prizes; the National Jewish Book, Whiting, and American Academy of Arts and Letters' Metcalf awards; and Academy of American Poets, Guggenheim, Lannan, and NEA fellowships. His books have been nominated for National Book and National Book Critics Circle awards, the Neustadt International Prize for Literature, and the T. S. Eliot Prize.
by Michael Morand
Image: Joy Harjo. Photo courtesy of MasterClass